Barlow & Associates, Inc.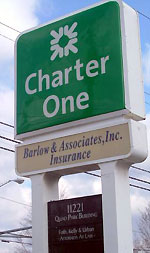 James A. Barlow and Associates was formed in 1974 in order to expand insurance services from only life, health, and disability insurance to a full service insurance agency.
At the time, its only market was Firemans Fund Insurance Company. In 1976 we added, and still represent, the Ohio Casualty Insurance Company.
In April of 1982, we moved to our present location at 11221 Pearl Road in what was at that time the People Savings Building and now houses a Charter One Bank Branch.
Linda Esper joined us in August of 1983 and still services our commercial accounts.
In 1986 we added the Motorists Mutual Insurance Company to our then three-company agency.
In 1987, Jeff Barlow joined the agency.
We added Frankenmuth Mutual in 1992 and State Auto Insurance in 2006. We also represent Progressive Insurance and Victoria Insurance for specialty coverages.
Representing:
Frankenmuth Mutual Insurance
Motorists Mutual Insurance
Ohio Casualty Group (West American Insurance)
Progressive Insurance
State Auto Insurance
Victoria Insurance